Rare, fascinating and beautiful, the meteorites in our upcoming online sale are coveted by science and art collectors alike
Meteorites, the solid pieces of debris that fall to earth from comets or asteroids, can be over four billion years old. Yet only recently have they become hot property at auction. Scarce supply and increasing demand for aesthetic iron meteorites have generated a sharp rise in the market for sculptures from outer space. Christie's is marking their popularity with a unique auction Deep Impact: Martian, Lunar and Other Rare Meteorites aimed at both the new buyer and the sophisticated collector, and spanning a wide spectrum of substance, size and continent. 'These pieces have transcended their appeal from dedicated meteorite followers to the wider art market,' says James Hyslop, Head of Science and Natural History at Christie's.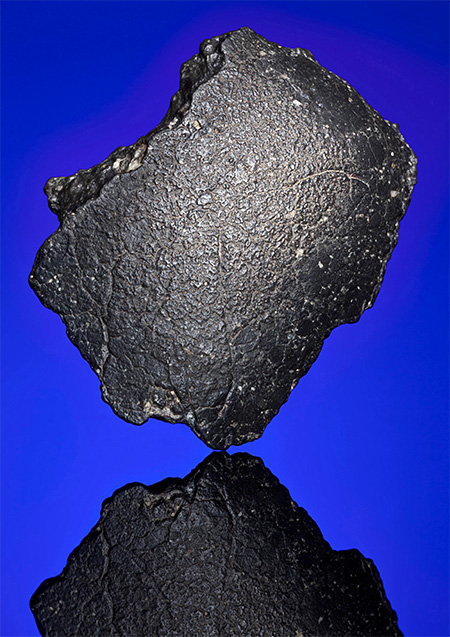 Black Beauty
Estimate: $75,000 — $100,000
'Black Beauty' is among the rarest substances on earth, one of only 80 meteorites found on our planet that come from Mars. Discovered in the Sahara desert in Morocco in 2011, the aesthetic and scientific uniqueness of this dark shiny rock is enhanced by the fact that it contains 10 to 30 times more water than any other specimen of Mars and that, unusually for a meteorite, it did not tumble or invert when it plunged to Earth resulting in it being perfectly oriented. 'When you have the Black Beauty in the palm of your hand, the monumentality of space and time comes across,' observes James Hyslop. 'Until we go to Mars, there isn't any way to touch that planet other than handling these specimens.'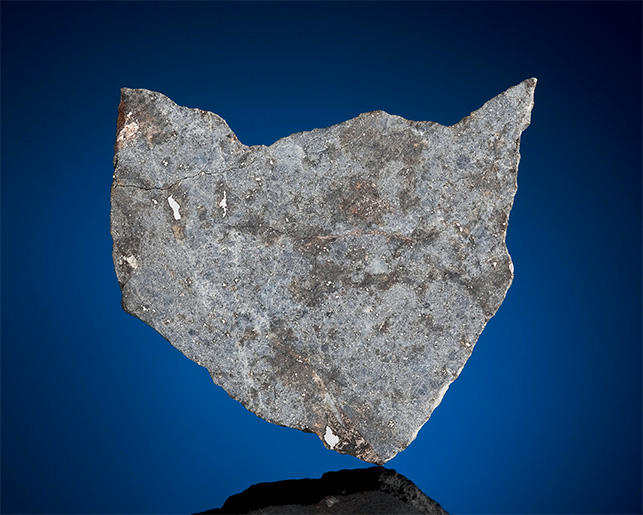 Ensisheim
Estimate: $2,500 — $3,500
The decrystallised slice of dark rock of the meteorite that landed on a field in Ensisheim, Alsace, on 16 November 1492 might not be the most beautiful specimen in this sale. Yet for historical value, Ensisheim's blue-grey brecciated matrix, made up of broken rock fragments, is unbeatable. The fireball, the oldest preserved meteorite in Europe, was interpreted by Austria's Emperor Maximilian as a sign of divine intervention to invade France.  Many art scholars believe it is this meteorite that is depicted on the reverse of Albrecht Dürer's 1496 painting
St Jerome in the Wilderness
. Both sides are now displayed in The National Gallery.  The collector selling the meteorite originally obtained it in a swap with the Natural History Museum for a piece of the planet Mars.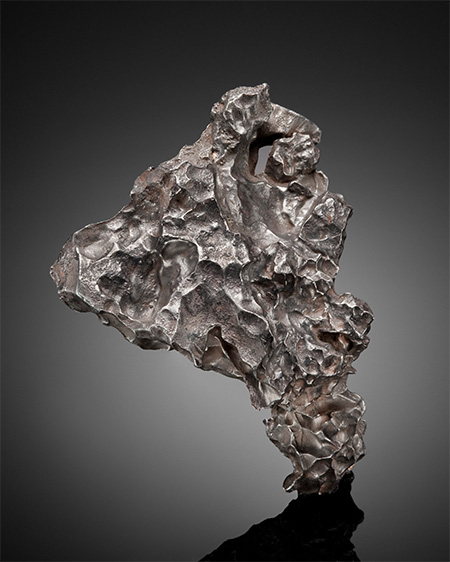 Sikhote-Alin
Estimate: $2,500 — $3500
This attractive grey-blue piece comprises part of the 70 metric-ton iron Sikhote-Alin meteorite, one of the largest meteorite showers since the dawn of civilisation. Sikhote-Alin broke off from its parent body 320 million years ago, wandering through interplanetary space, until at 10.30am on 12 February 1947 it exploded over Eastern Siberia. According to Hyslop, the Sikhote-Alin meteorite is reminiscent of both Chinese Scholar's rocks and the 'found flints' from the Norfolk coast that inspired sculptors Henry Moore and Barbara Hepworth. 'The Sikhote-Alin is my favourite in the sale,' he says. 'It isn't the most expensive or scientifically exciting specimen in the sale but the second I saw it I fell in love with it.'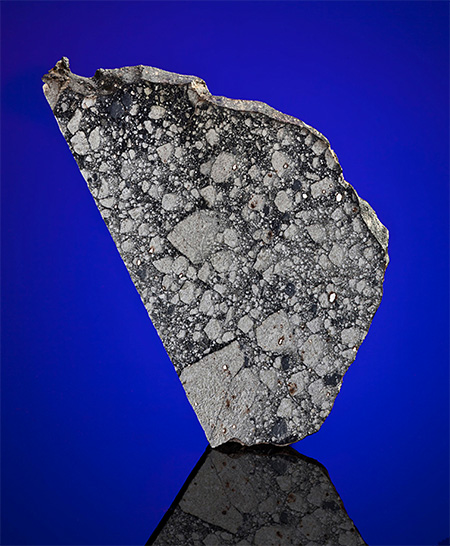 NWA 5000
Estimate: $140,000 — $180,000
The discovery of the cubic-shaped meteorite from the Lunar Highlands in Morocco in 2007 electrified the meteoritic community to such an extent they bestowed it with the "5000" appellation as an honorific.  NWA 5000 (the NWA stands for North-west Africa) represents a previously unchartered part of the moon and this large slice is a beautiful breccia made up of large fragments of 4.5 billion year-old metal. Arguably the most aesthestically beautiful lunar rock in existence, it's also one of a kind since US and Japan moon rocks are unavailable for private ownership. The most expensive meteorite up for sale at this auction, this is one slice of the moon worth shooting for.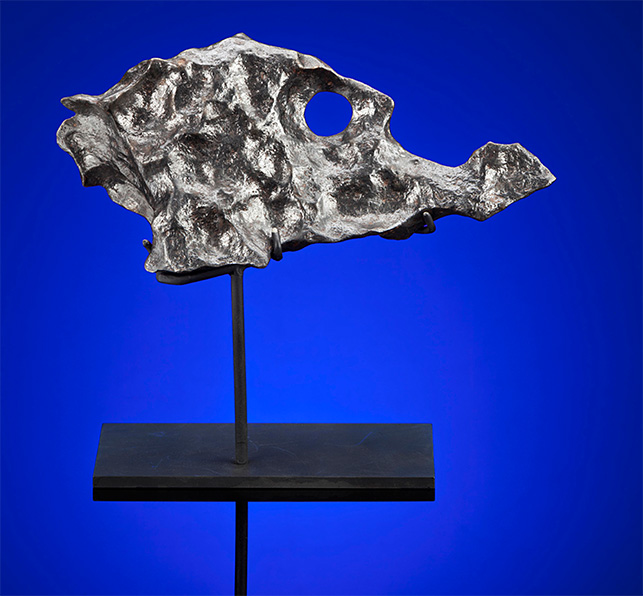 The Gibeon
Estimate: $55,000 — $85,000
This aesthetically stunning iron meteorite, formed 4.5 billion years ago in the asteroid belt located between Mars and Jupiter, was found by a tribesman in the Kalahari Desert in Namibia. The Gibeon, a zoomorphic specimen, features a rare naturally formed hole in the matrix, a result of terrestrialisation — exposure to the elements — that further increases its visual likeness to a bird. Meteorite collectors estimate that few other examples bear as close a resemblance to an animal as this special Gibeon specimen which invites comparison with Romanian sculptor Constantin Brâncuși's early 20
th
 century series 
Bird in Space
.
COURTESY CHRISTIE'S