Explosive, otherworldly, and astonishing, meteorites have inspired artists of all kinds across the centuries
On most clear evenings, a person can gaze at the heavens and see space rocks burning brightly as they disintegrate in our planet's atmosphere — the meteors we colloquially refer to as 'shooting stars.' But once in a while, one of those hurtling space rocks is big or forceful enough to break through our atmosphere, unleashing powerful forces when it does. The nature of the meteorite — its destructive power, its unpredictability, its power to remind us of the universe's vastness—is awe-inspiring; little surprise that artists have found it so inspiring over the years, from Renaissance painters to modern-day conceptualists. Here are a few striking examples of the meteorite's role in art history.
Albrecht Dürer, Saint Jerome (c. 1496)
On 16 November 1492, in the region of Alsace (in present-day France), a 127 kilogram stone came rocketing from the sky and slammed into a wheat field just outside the medieval town of Ensisheim, creating a sonic boom that could be heard for miles. When the Holy Roman Emperor got word about the meteorite, he had it placed in a local church, where officials chained it to the wall for fear it might escape. Others widely viewed it as an omen.
The celebrated German painter, printer, engraver, and mathematician Albrecht Dürer may have interpreted the meteorite fall differently. Dürer had left Nuremberg, a hotbed of artistic and scientific inquiry, that same year to visit the famed engraver Martin Schongauer in Alsace, explains Christie's Associate Specialist for Old Master Paintings Emma Kronman. (Schongauer died before Dürer reached him, but Dürer stayed for a while to spend time with Schongauer's brothers.) Though no one is certain whether Dürer saw the meteorite fall first-hand, many scholars believe the streaking heavenly body painted on the back of this double-sided devotional painting of Saint Jerome is the Ensisheim meteorite. The epitome of a Renaissance Man, Dürer was no doubt fascinated by the scientific mysteries behind this phenomenon.
'Dürer was a visionary and polymath in the same sense that Da Vinci was,' Kronman says. 'There's no question he would have been as intrigued by the meteorite as his contemporaries were, but his curiosity would have been grounded in a profound understanding of astronomy and cartography, fields to which he was an important 16th-century contributor.'
But why put it on the back of a painting of a saint? As Kronman says, 'Dürer may have been an intellectual giant in his day, but he lived in a religious world and was a religious man himself.' It is among many examples of Dürer's lifelong interest in Jerome, the quietly intellectual, meditative Saint most famous for translating the bible into Latin. For Dürer, Jerome might have served as a model for the ideal contemplative life, and thus as an intriguing complement to an image of a recent scientific discovery. However, Kronman doesn't want to speculate too much, since the painting could have been a private commission, and the artistic process guided by the purse behind it.
Joseph Beuys, Meteorit mit Emanationen (Meteorite with Emanations) (1957)
'The two terms, art and science, are diametrically opposed in the development of thought of the Occident, and because of this fact, a dissolution of this polarity of perception had to be looked for,' Joseph Beuys said, a year after creating Meteorit mit Emanationen (Meteorite with Emanations, 1957).
During his lifetime, the enigmatic post-war conceptual artist continually explored how art could play an important role in shaping and responding to the zeitgeist. In the 1950s, he was particularly prolific, producing thousands of drawings, and researching a slew of topics, from philosophy to science to the occult. Meteorit mit Emanationen (Meteorite with Emanations) serves as an example of these ideas coalescing into a single work of art able to capture the heavens colliding with the modern world.
'The drawings, like the environments, convey this sense of the passage between one state and another: the feeling that something must emerge from the material just as wind, water, clouds and smoke are in constant transition,' Caroline Tisdall wrote in the exhibition catalogue, Joseph Beuys: The secret block for a secret person in Ireland, MoMA, 1974.
In Beuys's scientifically-inclined works, Tisdall writes, 'There's an echo of the interchangeability formulated by Novalis and [Johann Wolfgang von] Goethe: if God could become man, then he could equally appear as a stone or plant or anything else.'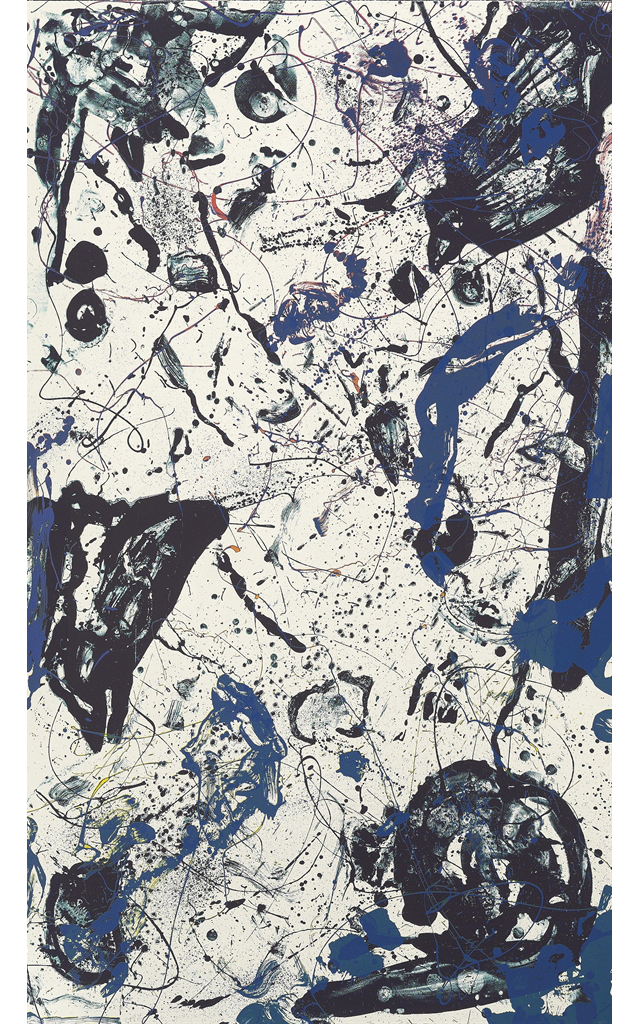 Sam Francis, Meteorite (1986), screenprint in colours, on wove paper
Sam Francis, Meteorite (1986)
The colourful works of Sam Francis burst forth in pops, drips, and splatters, beguiling viewers with their bright colours and kinetic movement. An Action Painter rooted partially in traditions popularised by Jackson Pollock and other Abstract Expressionists, the California artist's vibrant works were, nonetheless, never quite as jaggedly haunted and existential as those of his New York peers. An atmospheric, sunnier sort of mysticism pervades his creations, among them Meteorite(1986), one of several prints he made in the mid-1980s with the word 'meteorite' in the title.
Though the connection between this print and meteorites isn't explicit, neither is it difficult to imagine. 'Flight and weightlessness were things that were interesting to him,' says Murray Macaulay, Senior Specialist of Christie's Prints & Multiples department. 'There was this idea in his work of moving beyond the material objects of the world and looking beyond that horizon.' Indeed, the colours of Meteorite explode like meteoric collisions, spraying projectile traces of themselves across the surface, or pooling in crater-like wells of red, green, and blue. 'I can see how a celestial body like a meteorite might be of interest [to Francis] because it's a weightless thing, but also a heavy thing,' Macaulay added. 'And it has an explosiveness as well.' [For more Sam Francis, see Christie's online auction of his masterful prints, on sale from 19 November to 2 December.]
Maurizio Cattelan, La Nona Ora (The Ninth-Hour) (1999)
In the ninth hour, Christ is said to have died on the cross. In Maurizio Cattelan's science fiction-inspired wax work, the voice of god on Earth, the pope, is felled by a meteorite instead.
The Italian artist and prankster is known for creating sculptures and installations that challenge our perceptions of art and art making, many of which were on view at his 2011 Guggenheim retrospective. La Nona Ora occupied a section of the spiraling white building, ten years after it appeared at the Venice Biennale.
In a 2001 interview with Alicia Bona about La Nona Ora, Cattelan said, 'I want religion and blasphemy to collide, as they do in our daily life.'
The artist, who was raised Catholic, continued: 'Just think of any day of your week: you wake up, you might pray and think about some metaphysical truth. And then two minutes later you are stuck in the traffic, cursing and swearing and getting mad and anxious. Our life is based on contradiction. In this sense, the Pope is just a pretext, a way to hold up a mirror to our daily mediocrity and confusion. We are living a happy schizophrenic existence, so we might as well start enjoying our symptoms.' Despite the firestorm of criticism that erupted after the work, which depicted Pope John Paul II, the sculpture was shown in the pope's homeland of Poland. 'In the end,' the artist said, 'it is only a piece of wax.'
Sigmar Polke, The Spirits That Lend Strength Are Invisible II (Meteor Extraterrestrial Material) (1988)
In this work, which is now on view at the Tate Modern in the retrospective, Alibis: Sigmar Polke, 1963-2010, (Until 8 February 2015), the renowned German experimental artist employed an unusual mixture of meteoric granulate and resin on canvas.
In a 2003 interview with Martin Gayford at Modern Painters about his work, Polke says, 'It's helpful for visitors to have a title. The sillier or crazier it is, the more I like it.' This playful attitude belies the serious themes the post-war artist tackled during his career, such as rampant consumerism, and skepticism of authority. 'When I came to the West I saw many, many things for the first time. But I also saw the prosperity of the West critically. It wasn't really heaven,' he said. Polke was always ready to try new materials, and frequently used meteor dust, bubble wrap, purple dye from boiled snails, gold flakes, silver nitrate, uranium, and other unusual items, in his practice. 'Poison just crept into my pictures,' he once said of his work from the '80s, which echoed the economic and political crises of the era.
"I like occult symbols, the signs of the Zodiac and the alchemist tradition — transmuting one element into another,' Polke told Gayford. This obsession with the otherworldly is evident in The Spirits That Lend Strength Are Invisible II (Meteor Extraterrestrial Material) (1988), as well as the artist's other mixed-media works.
Image: Albrecht Dürer, Saint Jerome (c. 1496). Oil on pearwood, double-sided; © The National Gallery, London.
COURTESY CHRISTIE'S