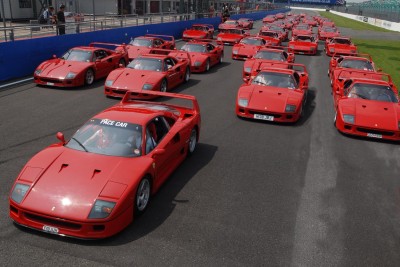 A pair of Ferraris born a generation apart, the LaFerrari hypercar and legendary F40 will be in the spotlight when the Performance Car Show brings the best of the motoring world to Birmingham next month.
On 8-11 January (8th and 9th are trade days only), supercars, high-performance favourites and classics will come together at the NEC, with the LaFerrari to appear in the Performance Car Show presented by Landsail Tyres in association with Autocar and PistonHeads.com. The F40, meanwhile, headlines a display of wild road cars presented by Classic & Sports Car magazine within Europe's largest motorsport show, Autosport International.
With only 499 to be produced, all priced at over £1 million and packed with F1-derived technology, the hybrid LaFerrari combines a V12 engine with a Kinetic Energy Recovery System to produce 950 bhp.
Accelerating from 0-124mph in less than seven seconds and weighing 1,255kg including a chassis made from four different types of carbon fibre, it's the fastest road-going Ferrari around the marque's test track at Fiorano, three seconds faster than the F12berlinetta.
The masterpiece will be parked outside the new Pie and Piston Pub by PistonHeads.com for enthusiasts to admire while catching up with the team behind the popular website.
"Ferrari holds a truly special place within the world of motoring. Its heritage is legendary and passion unrivalled, and continues to create amazing, sector-defining models," said Ian France, Performance Car Show Director.
"The LaFerrari is the latest in Ferrari's long line of phenomenal supercars, which of course includes the ground-breaking F40. We're excited about bringing these two icons of motoring to the NEC for enthusiasts to enjoy."
The Ferrari F40 will be displayed on a new, 14-car 'Track Icons and Wild Road Cars' historics feature presented by Classic & Sports Car and Silverstone Classic, within Autosport International.
Considered one of the greatest supercars ever made, the F40 was developed to celebrate Ferrari's 40th anniversary, and the last model personally approved by Enzo Ferrari before the founder's death in 1988.
Powered by a twin-turbo V8 producing 471hp, the lightweight, mid-engined creation covers 0-62mph in 3.8 seconds and became the first production car to break the 200mph barrier.
The F40 will be accompanied by a Jaguar XJR15, launched at the very first Autosport International in 1991, Porsche 959, Audi Sport Quattro SWB and Lancia Stratos Stradale in the unique collection.
Other Performance Car Show features include the Autocar Supercar display, hosting the Ferrari 458 Speciale, Lamborghini Huracán, BMW i8 and Vühl 05 in an 1,800hp showcase.
Tickets are now on sale for the public show, which is held at the National Exhibition Centre, Birmingham, on 10-11 January 2014. Advanced adult tickets cost £32, with children's tickets priced at £21 (children under five years of age go free). Group tickets are also available. Paddock passes are available from £42, with VIP tickets from £120.
For more ticket information call +44 (0)844 581 1420 or visit www.autosportinternational.com.